Phonexia Releases Phonexia Orbis—Revolutionary Software for Audio Investigations
Investigating a few audio recordings manually can be a relatively easy task to perform. However, when criminal cases become more complex and the number of audio recordings grows larger, discovering the context of who said what and when can become an extremely challenging task for law enforcement agencies.
Not only are these tasks heavy on law enforcement agencies' resources, but they are also associated with a tiring, exhausting routine that may lead to the missing of an important piece of case-resolving information and even result in the personal burnout of an investigator.
Not anymore.
Meet Phonexia Orbis—a Revolutionary Audio Investigation Solution for LEAs
Phonexia has leveraged its extensive experience from hundreds of public security projects from all around the world and developed a brand-new software for audio investigations—Phonexia Orbis.
This revolutionary on-premises solution helps law enforcement agencies extract complex insights from substantial amounts of audio automatically and efficiently, making investigations much more effortless and straightforward.
As Phonexia Orbis Product Manager, Tomáš Bia, says: "Every single part of the Phonexia Orbis user interface has been designed with an investigator in mind. They are now able to uncover and connect important insights from audio with just a few clicks, manage their notes and findings in one place, run further analyses, and visualize and share the results effortlessly."
Intuitive and Important-Information-First Interface
Every investigated case is unique, and some insights may be more important than others. This is why Phonexia Orbis offers a clean, highly intuitive user interface that displays the most important information first.
Investigators can also adjust the Phonexia Orbis interface to show insights based on the current investigation's needs and have the crucial details always at their fingertips.
Investigation efficiency is further improved with a sophisticated Smart Player that automatically highlights the audio parts that contain speech, enabling easy navigation and instant skipping between the speech blocks.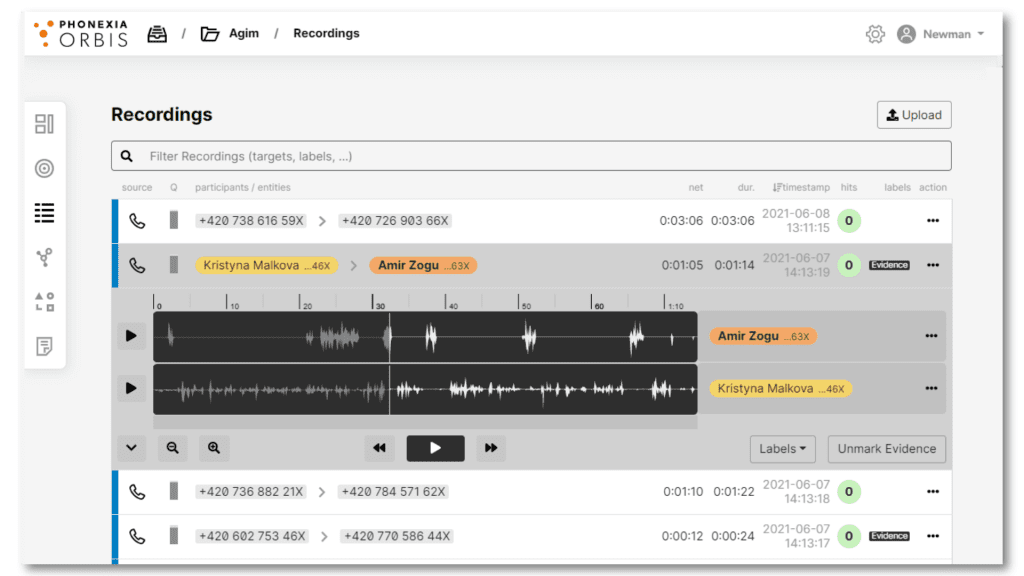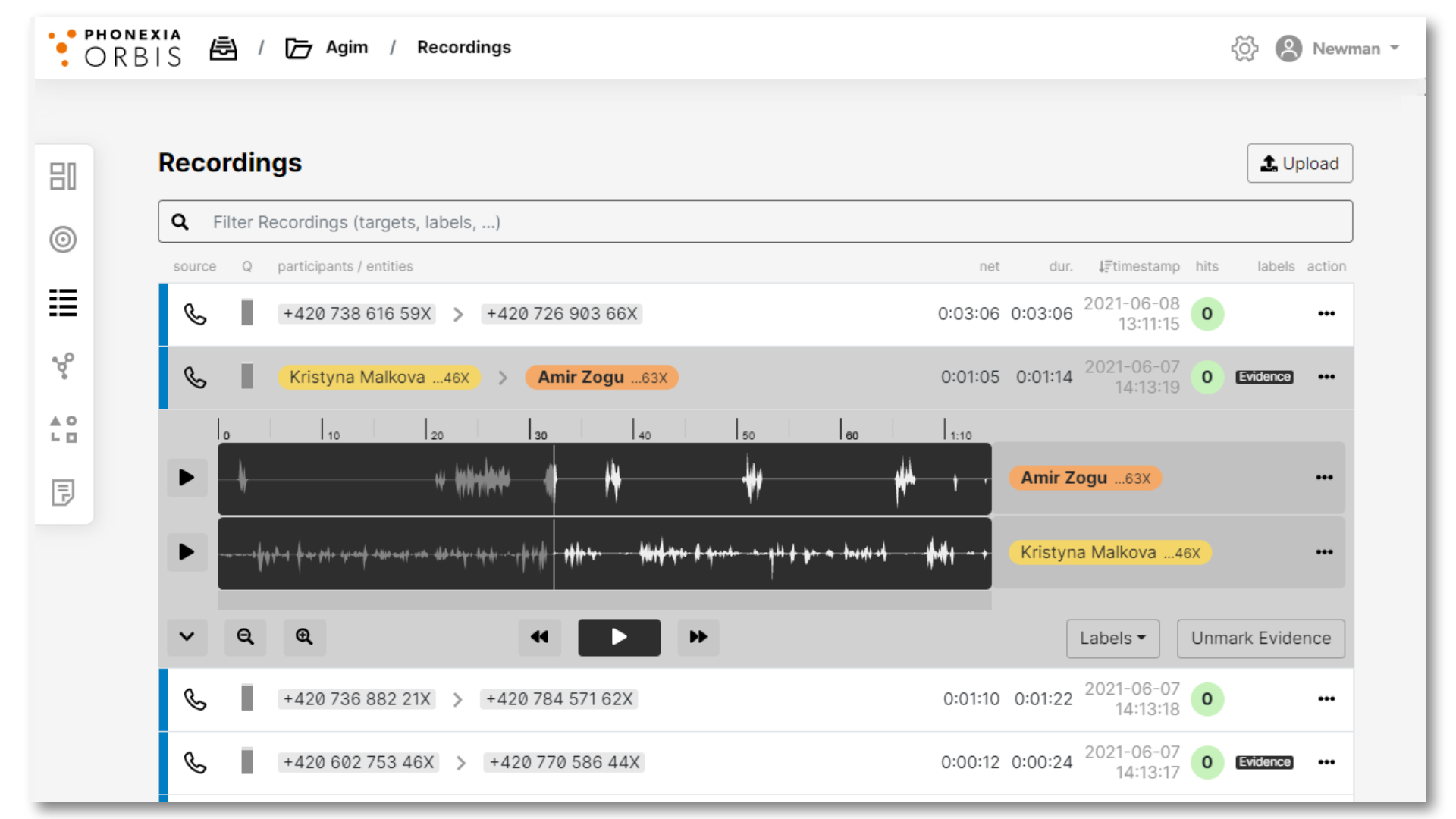 Effortless Network Map Visualization
Analyzing what was said in the recordings is only one part of the investigator's challenge. The second, and perhaps more challenging part, is to connect all the information together and uncover the context and relations between the people of interest.
Phonexia Orbis makes the dot connecting easier with a built-in feature called Network Map Visualization, which groups the identical voices in the recordings automatically based on voice biometrics and shows their relations to other voices in the investigated recordings.
The link analysis is then visualized as an easy-to-understand map of the voices and their relations throughout the investigated set of the recordings. This promotes fast understanding of the context necessary to resolve the case.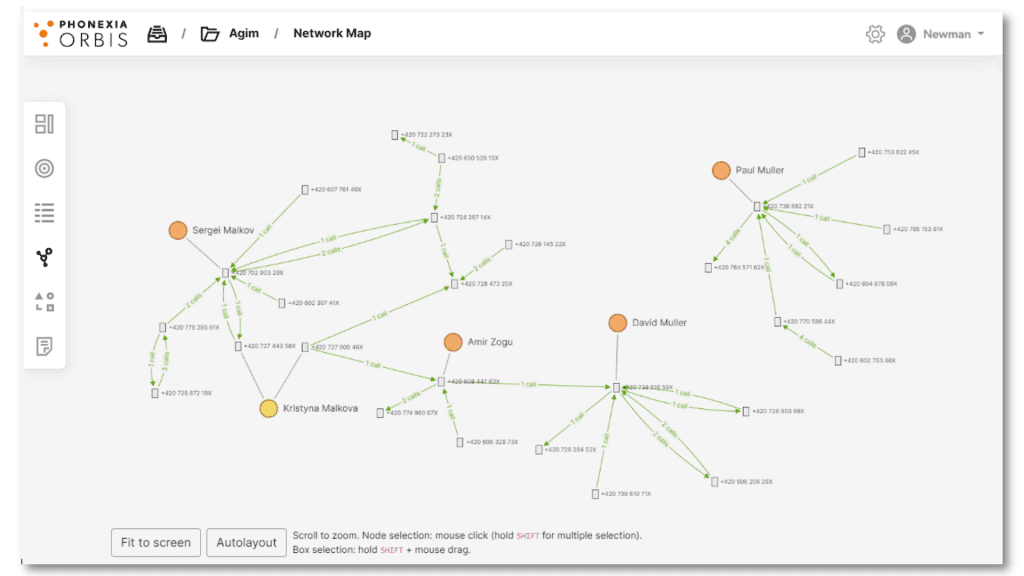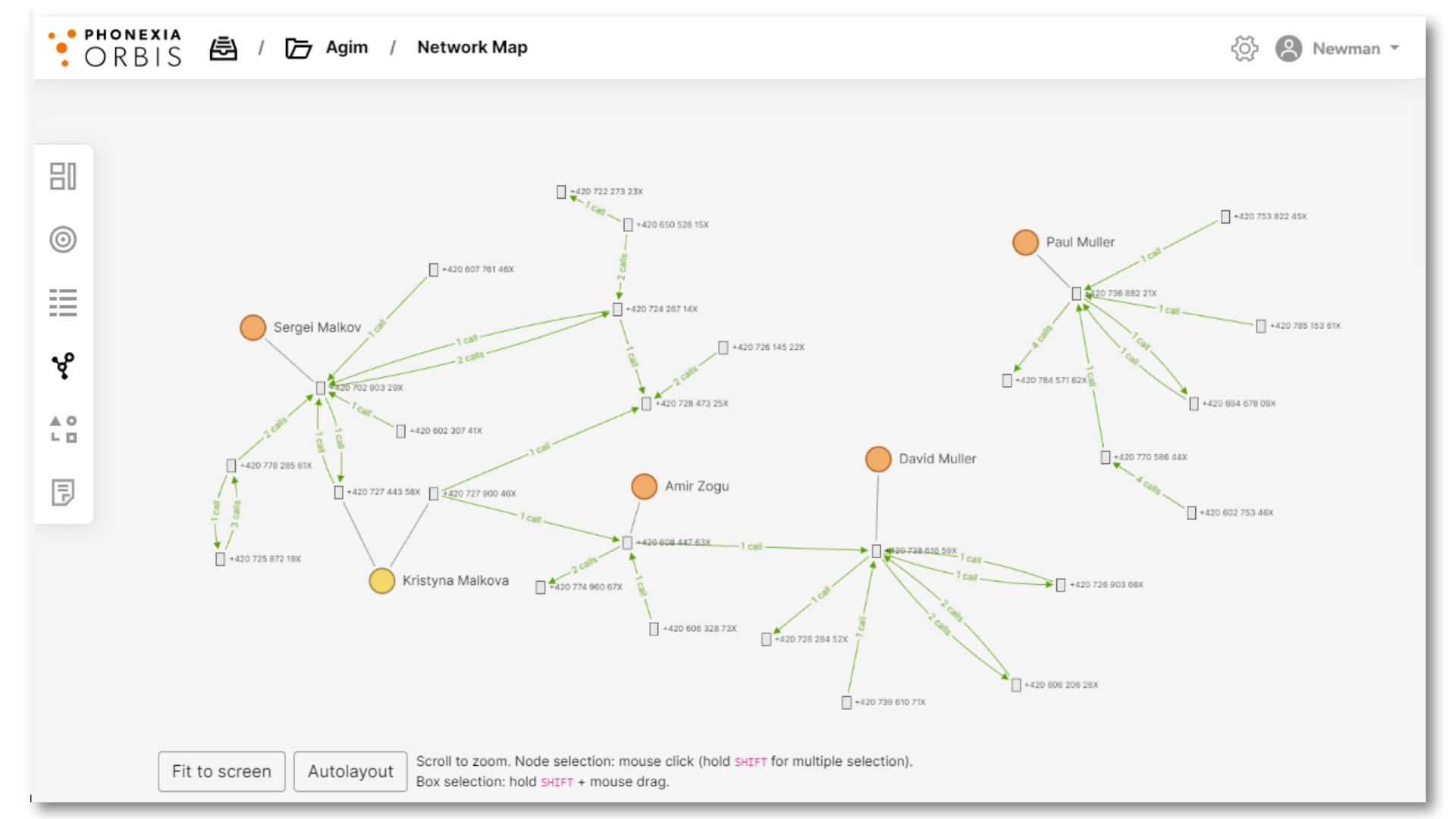 Seamless Notetaking and Reporting
Notes are crucial and necessary for making fast progress in an investigation. Phonexia Orbis's interface makes sure that whenever an investigator wants to make a note or highlight specific information for themselves, they are able to do so immediately and with no extra effort.
Similarly with the reporting, when the time comes to share the uncovered information further, it can be done easily with only a few clicks.
Powered by Phonexia's State-of-the-Art Voice Biometrics and Speech Recognition Technologies
Phonexia Orbis is powered by Phonexia's cutting-edge technologies for voice biometrics and speech analysis. These technologies use Phonexia's extremely advanced Deep Neural Networks (DNNs) for voice and speech recognition, providing outstanding accuracy and speed.
Thanks to the precise coupling of Phonexia technologies such as Speaker Identification, Voice Activity Detection, and Speaker Diarization, Phonexia Orbis delivers a powerful analytical performance to law enforcement agencies and their busy investigators.
What Awaits Ahead?
As Phonexia Orbis aims to solve all the audio investigation challenges of Law Enforcement Agencies to make their investigators extremely efficient, its current version is only the beginning.
Phonexia will expand Phonexia Orbis on a regular basis to support other sophisticated capabilities and scenarios, leveraging Phonexia technologies such as Language Identification, Gender Recognition, and Speech Transcription, to name but a few.
"Finding a needle in an 'audio' haystack and connecting the dots have never been easier. In line with Phonexia's purpose of solving everyday challenges through voice, Phonexia Orbis is set to revolutionize the way law enforcement agencies investigate audio, now and in the future," said Michal Hrabí, Phonexia CEO, explaining the goal of Phonexia Orbis.
To find out more and see the solution in action, head over to the Phonexia Orbis page and secure your spot for upcoming demos.