Phonexia Hosts the First Czech Internship for an MIT Student
In February 2021, Phonexia's team of researchers and developers welcomed talented MIT intern, Anne Harrington, for four weeks to explore ways to improve the performance speed of the latest generation of our diarization technology.
Not only was it the first MISTI (MIT International Science and Technology Initiatives) internship hosted by Phonexia, but it was also the first MISTI internship ever hosted in the Czech Republic.
And to make it just a little bit more challenging for both sides, the COVID-19 situation restricted the entire communication to online sessions only.
Fortunately, due to the transformation of remote working in the past 12 months, our researchers and Anne were already accustomed to frequent online video consulting sessions. This was certainly one of the reasons why the remote cooperation advanced flawlessly despite the six-hour time difference between Boston and Brno.
The Internship Goal
At the beginning of her four-week Phonexia internship, Anne Harrington—Massachusetts Institute of Technology's candidate for Bachelor of Science in Computation and Cognition—was introduced to a speaker diarization challenge that Phonexia's team of researchers had faced.
The challenge was related to agglomerative hierarchical clustering (AHC), which our team used in their latest cutting-edge speaker diarization technology. On the one hand, the AHC was a necessary step for more accurate speaker diarization. On the other hand, it was responsible for significantly slowing down the diarization process when analyzing speech utterances longer than 30 minutes.
Therefore, Anne was asked to explore various approaches to speed up AHC and optimize speaker diarization pre-clustering on longer speech utterances.
How Did It Go?
Anne rolled up her sleeves and spent her entire internship testing three different modifications of AHC under the supervision of Phonexia's experienced voice recognition researcher and developer Michal Klčo.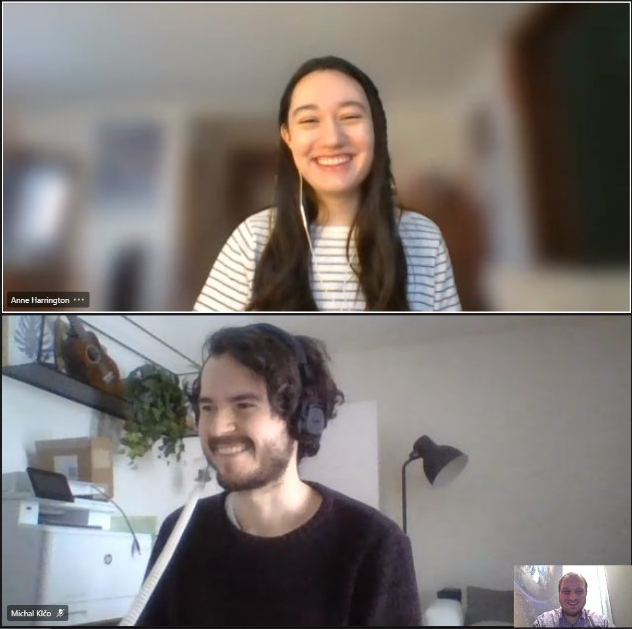 By the end of her internship, she was happy to report that two out of the three AHC modifications that she tested had improved the processing time significantly. Anne was able to speed up the speaker diarization processing by up to 10 times, which has enabled Phonexia's speaker diarization technology to be used in a broader range of use cases.
How Was the Internship at Phonexia?
Michal and the rest of the Phonexia team were very happy with Anne's results. Anne was also very positive about her experience and didn't hesitate to provide a few insights into her internship at Phonexia:
How Did You Find Your Internship Experience at Phonexia?
"My internship experience was incredible! I got to work on a rewarding project with so many smart and caring people. I was constantly supported and challenged to be my best. I feel so lucky to have done an internship at Phonexia."
Did It Meet Your Expectations?
"The internship exceeded my expectations! Not only did I get to work on an interesting technical project, I was also welcomed into deeper discussions about current challenges and innovations in speaker technology, where Phonexia is a leader!"
Was Remote Collaboration Challenging?
"Remote collaboration was difficult at first (especially with the six-hour time difference!), but throughout the experience, I was impressed by how seamlessly Phonexia handled working remotely. Even though we could not be together in person, I always felt connected to Phonexia through frequent video calls and messaging."
Would You Choose an Internship at Phonexia Again?
"Yes, I would definitely choose an internship at Phonexia again! I learned so much and am so grateful for all the lovely people I met during the experience. I have to finish my studies at MIT for the time being, but I would love to work with Phonexia again and would encourage other students to pursue an internship with Phonexia too."
The First MISTI Internship in the Czech Republic
As already mentioned at the beginning of this post, Anne's internship at Phonexia was also the first MISTI internship ever hosted in the Czech Republic.
Here is what Justin Leahey—MISTI Managing Director for Germany, Switzerland, and the Netherlands—says about the cooperation with Phonexia:
Did the Internship Cooperation with Phonexia Meet Your Expectations?
"Absolutely! The Phonexia team was an excellent internship host to our student Anne Harrington. Phonexia offered a meaningful internship project with clearly defined deliverables, provided Anne with all the support and resources she required, and, most importantly, gave Anne true mentorship as she developed her professional skills. In our evaluation of the internship, it was by all measures a success – both she and company benefited from their collaboration."
Would You Recommend a Phonexia Internship to MIT Students in the Future?
"Again: absolutely! In Anne's report to us, she praised the strong mentorship from the Phonexia team. She felt that she had contributed to the company, and she developed her professional skills. All despite a remote work environment and a six-hour time difference. This was MISTI's first internship in Czechia, and we recommend Phonexia to all MIT students interested."
Conclusions
Phonexia hosted the first MISTI Internship in the Czech Republic, and it was a great success. Anne Harrington's collaborative work with Michal Klčo and the rest of the Phonexia research team helped speed up our speaker diarization technology significantly, and we look forward to more MISTI Internships in the future!